Induced Draft Cooling Tower
Cooling water returns in a warm state from the process and enters at the top of the cooling tower under pressure to be distributed through the fill pack. Simultaneously, air is drawn in at the base of the tower by the fan and travels upward to mix with the water where some evaporation takes place, removing heat from the remainder. The warm moist air is discharged to atmosphere.
Features
Cooling capacities from 50kW to 12,000kW.
Body and basin constructed from Z725 galvanised steel.
High performance, long life axial fan.
Vertical air discharge at a sufficient distance from the horizontal air intake to prevent air re-circulation.
Highly efficient drift eliminator limiting water losses to less than 0.001% of the water re-circulation rate.
Patented fill pack inducing a highly turbulant mixing of air and water for superior heat transfer.
Superior two pass air intake louvre and screen design to minimise water splash out and block sunlight to reduce algae formation. The low pressure drop design results in lower fan energy consumption and operating costs.
Pressurised water distribution system with sediment preventing sludge rings incorporated within the spray nozzles. Easily removed for maintenance.
A.C.O.P L8-2000 compliant.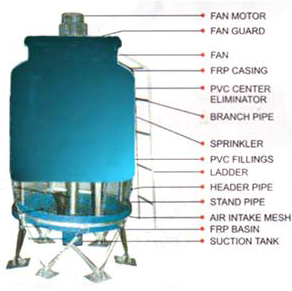 ---