WATER COOLED CHILLER
Water cooled chillers are typically indoor installation and operation, they are cooled by a separate condenser water loop and connected to outdoor Cooling Towers to expel heat to the atmosphere.
Quality Control
Our chillers are compact design covering minimum floor area. low cost maintenance, break through technology and long life serviceability Chilled water temperature can range from 5°C to 7°C We are manufacturing chillers ranging from 0.5 TR to 250 TR
Specifications
When determining industrial chiller specifications, the following aspects need to be taken into consideration
Source of power
Chiller rating
Capacity of the evaporator and condenser
Cooling capacity of the chiller
Type of the evaporator
Ambient temperature
Material of evaporator and condenser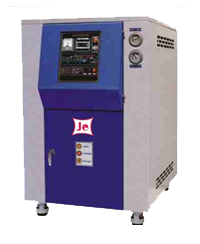 ---
Water Cooled Chiller Application
Chilled water or other liquid from the chiller is pumped through process or laboratory equipment. Industrial chillers are used for cooling of products, mechanisms and factory machinery insystems a wide range of industries like.
Plastic industry in injection and blow moulding.
Metal working cutting oils, welding equipment.
Die-Casting and machine tooling, chemical processing
Pharmaceutical formulation
Paper and cement processing
Vacuum systems
X-ray diffraction